With more than 13 million followers and a seven-figure paycheck, the gymnast and social media star is the future of college sports.
Louisiana State University gymnastics star Olivia Dunne was in Times Square staring up at a 73-foot-tall version of herself. A video clip that played on the billboard showed the most-followed athlete in college sports starting a flip on a beach on TikTok and transitioned to her sticking a landing in her LSU uniform in the school's arena, her arms lifted triumphantly overhead.
The campaign, which was paid for by LSU and spotlighted other athletes as well, was a victory lap following the NCAA's decision to overturn its 115-year prohibition on student athletes earning money for their name, image, and likeness (NIL). "That was the moment my life changed forever," Olivia tells me as she sips a drink outside a campus Starbucks on a sunny spring day in Baton Rouge.
LSU had taken fourth place at the national championships the weekend before, an impressive showing given the number of injuries the team suffered this season, and she was enjoying a rare moment of downtime, dressed casually in black leggings and a cropped T-shirt, her long blonde hair spilling over her shoulders. If not for the Prada bag slung on the chair behind her, she'd be indistinguishable from the other students passing by. Pausing to reflect on that Times Square moment, she adds, "That was surreal. I didn't really know what was to come, but I knew it was going to be special."
Two years later, Olivia is still the most-followed college athlete in the country, with more than 13 million followers across platforms (7 million-plus on TikTok, 4 million-plus on Instagram, 1 million-plus on Snapchat, and 87,000-plus on Twitter). She's turned all those eyeballs into cash, netting millions per year in endorsement deals. Olivia currently ranks second to USC men's basketball commit Bronny James on On3's NIL 100 List of top high school and college annual-earning projections, and one ahead of Texas quarterback Arch Manning. The obsession with her runs so deep that you can buy a throw blanket with her face on it for $61.45, while T-shirts that read "Mentally Dating Olivia Dunne" go for $23.34.
Every time she posts, within seconds the comments roll in: "wow," "so pretty," "love you," "marry me," "mommy." And inevitably some version of: "Is this appropriate?"
It turned out she was a natural. "I remember being quite strong for a three-year-old," Olivia says, recalling how her coach would put her on the rings, a men's apparatus, and she could hold herself up with ease while being swung back and forth, which, she says, "I can barely even think about doing right now at 20 years old."
Olivia started competing at age seven, once moving up an incredible four levels in one year. By the time she was 10 years old in 2013, she had reached level 10—the highest level before elite. With her sights set on the Olympics, she started attending national team training camps, then left public school in seventh grade to homeschool with her mother. When LSU began recruiting her (rules about how soon schools could reach out were looser then), she had a very 12-year-old response to the university's efforts. "I liked LSU at first because one of their colors was purple," Olivia says, laughing. "I was a baby."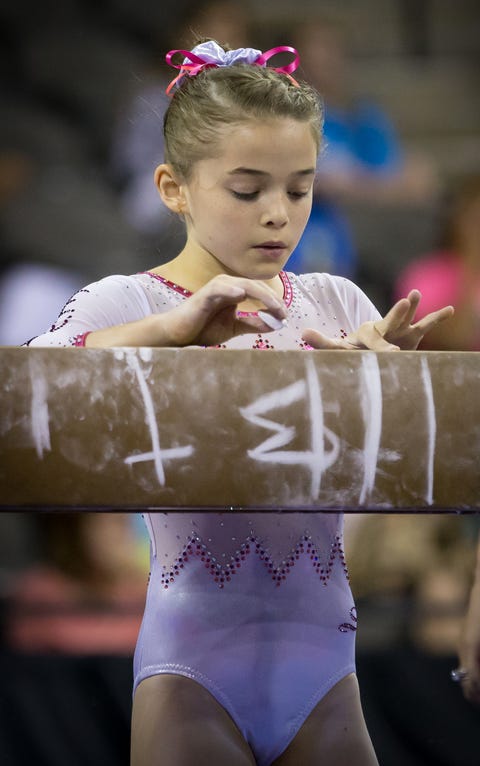 When she was just nine years old, she joined the year-and-a-half-old platform Instagram. One thing many people don't realize about Olivia—especially those who like to say she's "turned the male gaze into a gymnastics empire" (as one recent headline in the Guardian read)—is that she is not an overnight sensation. She's been building a brand and amassing an audience on social media for more than half her life. And the gymnastics part came first...